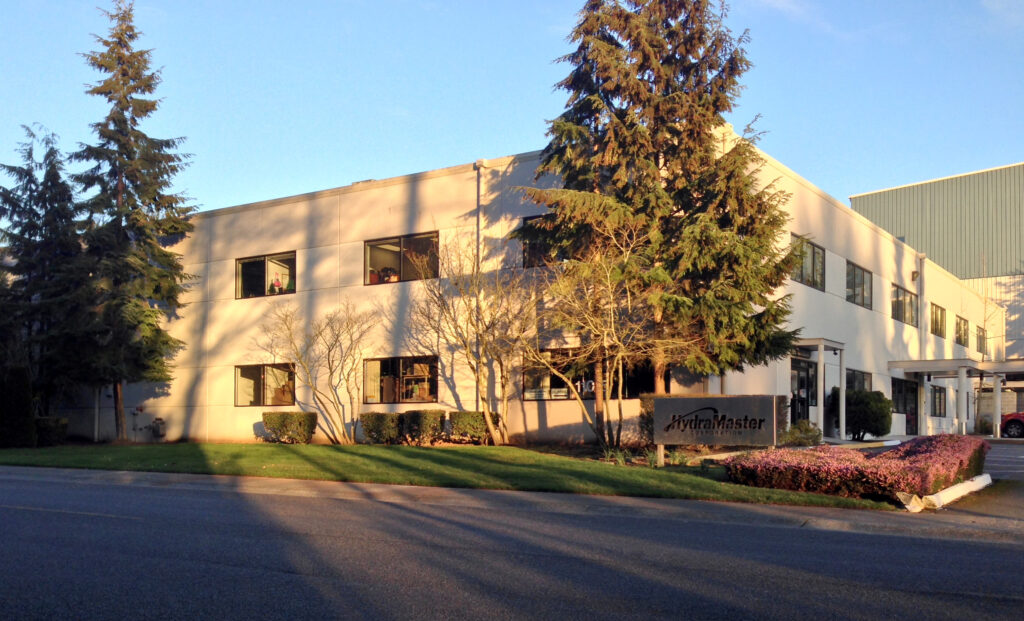 In 1969, Entrepreneur and Carpet Cleaner Michael Palmer saw another carpet cleaner who had attempted to build a truckmounted carpet cleaner. Mike was convinced he could do better. By 1971, Mike had introduced HydraMaster truckmounts to the carpet cleaning industry and was one of the first companies to sell truckmounts nationwide.
For over 50 years HydraMaster has been the innovation, reliability, and performance leader in the manufacture and support of truckmounted equipment. These years of experience have now elevated truckmount technology and resulted in substantial gains in simplicity, durability, and longevity. HydraMaster truckmounts are designed to provide consistent high heat, powerful water recovery, and withstand the abuse of multiple operators, and are much easier to operate. In 2009, HydraMaster became part of Nilfisk, one of the world's largest manufacturers of cleaning equipment. Today, HydraMaster is the industry leader in manufacturing truckmount cleaning systems, accessories and chemicals.
In 2018, Josh Howard acquired HydraMaster from Nilfisk, returning the company to its entrepreneurial roots. Our distributors and the cleaning and restoration professionals that invest in HydraMaster equipment can be encouraged by the enhanced focus on their success. Howard states: "Over the last 47 years, HydraMaster has pioneered and built a legacy brand that is the recognized leader in the carpet and restoration equipment industry. The future vision is to continue the great legacy of HydraMaster while building and investing in the people and customers of HydraMaster. A strategic plan for the future will be focused on how HydraMaster can evolve from good to great while leaving a lasting impact on the people and industry around them. I believe the greatest days are ahead for the HydraMaster company, and with the dedicated and talented team at HydraMaster, we will do great things in the cleaning industry."
Common words in our industry like "innovative", "performance" or "powerful" don't carry much weight without standing the test of time. Longevity is the key to reliability and return on investment. We have a 45+ year established track record of innovative design and technology advancement to develop systems to compliment proven components to ensure quieter, easier, more reliable operation and maintenance.
At HydraMaster, we're so sure of our machines, we even offer the best warranty in the business (2 or 3 years parts & labor). We also support you with one of the largest distributor networks and most experienced engineering teams in the industry. We commit ourselves to providing our customers with the highest quality products and unparalleled service.
We are not just innovators. We have the track record to prove it. We perfected the direct drive truckmount. We revolutionized recovery systems with Maxx-Air® Recovery Tanks. We increased vacuum and reduced noise with the OptiAir™ Maximizing Airflow Systems Over-Drive™ Power Train Technology. We increased efficiency and reduced fuel consumption with ESC™ Speed control and fuel consumption reduction system. We reduced the waste of water and constantly needing to empty waste tanks with our Diverter based ADC™ Temperature Control System. Our Dominator® and Competitor® vacuum blowers are exclusively designed and built for us. We invented and patented rotary jet extractors® and jetless shear technology in upholstery tools. If something changed and revolutionized truckmounts, it is likely we were the first company to introduce it. In 2017, HydraMaster became the first company to offer direct drive truckmounts in a unibody van with the introduction of the CDS xDRIVE truckmount in a Ford Transit.
Over the years, HydraMaster has expanded its product lines to include portable extractors, restoration equipment, restorative cleaning and deodorizing chemical solutions, innovative tools and accessories. Our equipment is hand built by skilled crafts persons in our factory in Mukilteo, Washington in the United States of America. HydraMaster truckmounts are sold, supported and serviced worldwide. HydraMaster is one of the leading equipment brands in the USA, Australia, New Zealand, the United Kingdom, Canada, Japan and China.
---