IICRC Training and Certification On-Line Classes
HYDRAMASTER UNIVERSITY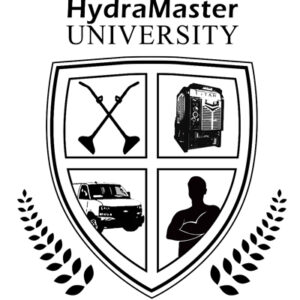 ---
IICRC Training and Certification On-Line Classes
Why HydraMaster On-Line Training?
"If you think education is expensive, try ignorance" – Derek Bok
"You can't outperform your knowledge" – Bob Bonwell
Increases your competitive edge
Helps avoid more expensive "learning lessons"
Gives your company a higher stature in the community when marketed correctly
Motivates your staff, increases their self-esteem, and provides a growth path for advancement in their job and in their career
Professional conduct and attitude
Decreased liability, a better final product, and satisfied clients who will refer you and call again
Why Choose HydraMaster University for Your IICRC Training?
51 years of industry involvement
The industry's most sought after, recognized, and passionate instructors
Streamlined registration and sign-up process
Concentrating on the basics and teaching the information you will actually use on the job
Eligible for HydraMaster Rapidgrowth Marketing Materials
Special drawings, surprises, give-aways, and exclusive discounts at every school
The Advantages of On-Line Training vs. Traditional Classroom Training
Greatly reduces expenses for you and/or your staff: No airfare – No hotel – No rental car
Keeps you and your technicians on and near the jobsites
Less business interruptions
Many students tend to score HIGHER on on-line training than they do classroom training
The Research Institute of America found that eLearning increases the participant's knowledge retention by as much as 25-60%. With the flexibility of taking the course anywhere, anytime, and more engaging content results in a deeper understanding not experienced in traditional classroom training.
In this age of intensified social media, online learning allows learners to like, share, discuss and collaborate easier over the long term
Would you like to know more about the IICRC?
The IICRC is the Institute of Inspection, Cleaning, and Restoration Certification, a non-profit organization for the Inspection, Cleaning, and Restoration Industries. The IICRC, originally named the International Institute of Carpet and Upholstery Cleaning Inc. (IICUC), was founded in 1972. Since starting in 1972, the IICRC has evolved into a global organization with more than 49,000 active Certified Technicians and more than 6,500 Certified Firms around the world.
The IICRC is managed by its Board of Directors, which is comprised of 15 industry leaders elected by the IICRC's Shareholders. The Board of Directors' function is to represent the various interests of the applicants while leading the direction of the organization. The Board of Directors meets four times per year and is tasked with the responsibility of helping shape future policies of the organization and uphold the standards that help shape the industry.
The IICRC offers 26 different Certifications across the Inspection, Cleaning, and Restoration Industries that are instructed by highly skilled approved Instructors and Schools. Some of these Certifications are conveniently offered live-stream, making it easier than ever to become IICRC Certified and build a career in the industry. Certified Technicians carry their certification wherever they go, even building their own businesses and becoming a Certified Firm. There are advanced Master Designations available for technicians who wish to continue building their careers, or become an Approved Instructor or School. The opportunities are endless.
For more information about the IICRC, visit their website – www.iicrc.org or download this brochure: https://www.flipsnack.com/iicrcannualreport/iicrc-snapshot/full-view.html
How to Market Your IICRC Certification After You Become Certified
For more information about how to market your IICRC Certification and increase the value to your marketplace, read this article: https://hydramaster.com/how-do-you-build-the-value-of-your-iicrc-certification-into-your-marketing- message/ or watch this video: https://youtu.be/4vJLYsnTQW
---
Choose Your Training Class
Carpet Cleaning Technician (CCT)
Water Restoration Technician (WRT)