Description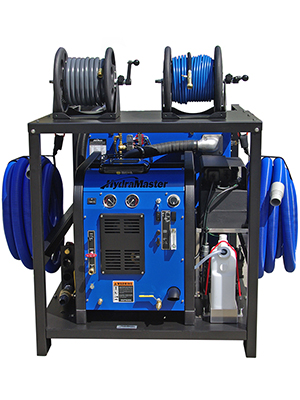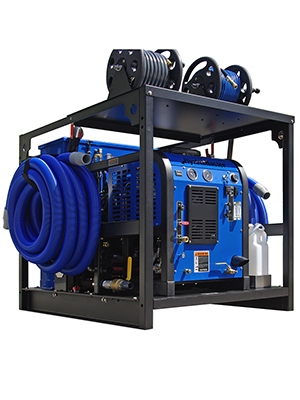 What is a Truckmount to Go™?
The HydraMaster TMTG4000™ Truckmount to Go™ is a mobile, high performance cleaning and extraction system designed for restoration and cleaning contractors, facility managers, and disaster emergency response teams who need an easy to operate and easy to transport unit. It can be directly delivered to the job site for immediate and on-going deep cleaning and extraction of carpets, upholstery, hard surface floors, sidewalk, porch and entry way cleaning; water and flood extraction, and pressure washing where immediate collection of cleaning solutions and soiling are beneficial.
How does it work?
The complete self-contained, turn-key system can be transported via flatbed or pick-up truck, van, trailer, or even an industrial cart. As the unit provides its own power, no electricity is needed. The complete system includes: a wastewater recovery tank;  high capacity automatic wastewater disposal system (for pumping wastewater to an on-location sanitary sewage access point); fuel tank; vacuum and solution hoses mounted on a high capacity hose reel; and a cleaning and extraction wand. In addition, the TMTG uses a state-of-the-art heat exchange system to heat the cleaning solution, eliminating the need for a second fuel source required for hot water pressure washers.
Permanent Vehicle Mounting is Not Required
The TMTG™ does not require the contractor or facility to permanently tie up a vehicle. The unit is simply forklifted into the transport vehicle for delivery to the job site, or shipped by container, pod, or crate to the worksite.
Applications
• Carpet Cleaning
• Water and flood extraction
• Upholstery Cleaning
• Stone, Tile & Concrete Floor Cleaning
• Hard Surface Floors
• Water Damage Restoration
• Pressure Washing

Owners Guides and Manuals
TMTG4000 — Owners Manual — Owner's Guide/Maintenance Schedule