Have you overlooked your van in your safety protocols during COVID-19?
Professional Cleaning and Restoration contractors have been on the front line of the COVID-19 pandemic as essential workers since literally day one. Whether your company has decided to add or promote the application of antimicrobials as an added service during these unprecedented times or not, you are still a hugely important part of the response to make indoor environments safer. The Center for Disease Control, the Environmental Protection Agency, and industry focused experts alike all agree that deep cleaning is the essential first step in creating a safer and healthier indoor environment.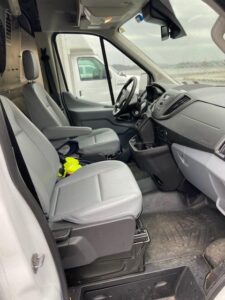 In addition, your cleaning or restoration company has likely added many new protocols for how to operate safely inside a customer's home or business. Wearing protective face masks, protective gloves, and protective booties; and strenuous handwashing and sanitizing routines are likely now part of your daily routine. But there may be one often overlooked protocol you need to add to your daily routine to create a safer and healthier environment in your company.
The cleaning truck is an incredibly important domain of the cleaning and restoration contractor. After all, it usually contains your fire breathing all important beast of a truckmount –
your mobile cleaning and sanitizing cleaning plant for all surfaces. Plus, it transports all that other gear you may need on the job – everything from rotary extractors to air movers to upholstery tools to Counter Rotating Brush agitation machines. All those magical tools which you use to cleanfully transform your customers indoor environments. You and your technicians amy spend hours a day in these trucks. You may enter and depart from them up to 10 times a day. And you know you must remove and then return all those hoses, tools, and accessories you use on every job.
So perhaps it is time to be more programmatic about cleaning and applying a disinfecting agent to the inside of your own truck on a regular basis. Consider all the common touchpoints in your work vehicle:
Steering wheel
Cup holders
Seat belts
Door handles
Gear shift knobs
Turn signal knobs
Radio control buttons
Heating and air conditioning controls
Vacuum hose reels
Freshwater tank hook-up points
All the touch points on your truckmount or portable extractor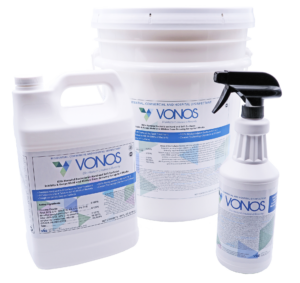 The truth is, it is already difficult to get technicians who have worked hard all day to clean and put away all their equipment and tools at the end of each workday. Add to that daily and weekly maintenance requirements for your truckmounts, and the "to-do" list at the end of the day may already be long. But the fact is that if you are the cleaning and/or restoration professional, you owe it to your employees and your customers to go the "extra mile" in setting a standard for cleanliness and safety.
Make sure you and your technicians thoroughly wash their hands after every job before re-re-entering the van. Keep a bottle of hand sanitizer handy inside the van for those jobs where that may not be easy to do.
Then establish a deep cleaning and sanitizing protocol for the inside of the van. Make sure you supply them with cleaning solutions or wipes that are appropriate and safe for all the touch point surfaces. After deep cleaning is accomplished, make sure if they spray with a disinfecting solution that they allow the proper dwell time to the surface.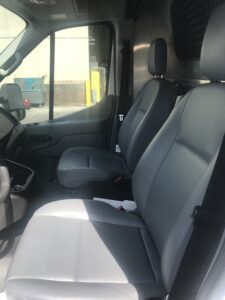 Finally, a periodic spraying application of an EPA registered disinfectant throughout the inside of the work vehicle may be in order.
One thing that many cleaners and restorers have appropriately expressed concern about is the potential for the "over-application" of disinfectants and the potential long-term effects on people and on materials themselves. Recent studies by Shaw Industries have shown that the repeated application of quaternary disinfectants and botanical disinfectants without wiping up or extraction can lead to issues. From the Shaw Technical Service Technical Bulletin – Enhanced Floor Cleaning – "The use of EPA registered disinfectants may cause negative effects on carpeting. For example, quaternary ammonium chloride products can leave a stick residue and result in yellowing or distortion of the surface appearance." In addition, in a presentation done with Experience Events, representatives from Shaw Technical Services showed pitting and damage that could be done to metal surfaces and other floor coverings by the repeated over-application of disinfectants. They specifically referenced the sticky residue left behind by repeated applications of botanical disinfectants, also. Fortunately, Shaw pointed out that the repeated application of chlorine dioxide based disinfectants "played nice" with carpeting, other floor coverings, and other materials. They are recommending that type of product. HydraMaster is the exclusive distributor of VONOS disinfectant – a chlorine dioxide-based disinfectant that meets that criteria for safe repeated application inside your company van and vehicles.
If you are concerned about the repeated application of disinfectants in your van or work vehicles and what affects they might have on the technicians driving them all day, you should also consider VONOS. We recommend the use of a safer, no PPE required disinfecting solution like VONOS – a chlorine dioxide-based disinfectant for repeated application in such an enclosed environment. These types of disinfectants are safer than many of the most commonly used disinfectants in your Even then, give the truck adequate time to "air out" after deep cleaning and disinfectant application.
Why do you take these important steps? Because it is the right thing to do. Protecting yourself, your family, and all your employees and their families are an important part of running a professional cleaning or restoration business right now. Not taking extra cleaning and disinfecting protocols during this time of pandemic is not much different than driving around in a carpet cleaning van where you would never want your customer to see the back of your van because of the piled up hoses, filth, and grunge. It is a step of professionalism to keep it cleaner and safer. And yes, you absolutely should build these extra steps you are taking into the marketing messages you are delivering to your clients or potential clients.
Tags: car, cdc, corona, covid, detailing, disinfect, driver, epa, touch points, truck, van, vehicle