Why VONOS is Your Best Choice for Applying a Disinfectant
My local distributor already sells several disinfectants. What is the difference?
There are more than a dozen EPA registered disinfectants sold in our industry for water damage restoration mold treatment, and for applying a disinfectant or sanitizer directly to a surface to reduce harmful organisms. That does not even include all the "Jan-San" Bathroom disinfectants that are available. So, what makes VONOS different and better than all those other products?
Virtually all these products sold in our industry fit generally into the following categories:
Jan-san based quat disinfectants (bathroom disinfectants)
Hospital grade quaternary disinfectants
Quat/Phenolic disinfectants
Botanical (true plant-based) thyme oil-based disinfectants
Synthetic (man-made) thyme oil-based disinfectants
Hydrogen Peroxide based disinfectants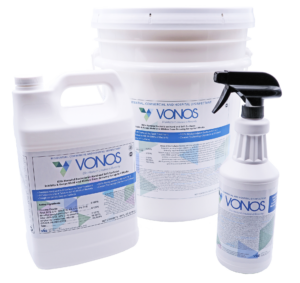 How is VONOS better than all those other disinfectants?
VONOS is truly different. It is a chlorine dioxide-based disinfectant and that and its EPA registration provide it with many unique and important advantages. It is extremely tough on germs and bacteria and viruses but is safer for surfaces and skin.
VONOS is a chlorine-dioxide-based solution for use in both the home and business environment to eliminate bacteria, viruses, mold and mildew, odors, and allergens that could be potential health threats, without exposing users to harsh chemicals or harmful residue.
Like most of the products being sold to you by reputable suppliers right now, VONOS is approved by the EPA for use against SARS-COV-2, the virus that causes Coronavirus. It meets the EPA's emerging pathogens requirements for viruses showing envelope and non-envelope viruses, both larger and small. It is listed on the EPA "N" list. (EPA registration #82972-1, Company Reg# 82972-1-96360).
VONOS is safer to use than most other disinfectants (including quats, phenolics, and synthetic thyme oil) as no PPE is required during application and it is non-irritating to the skin and non-corrosive.
Check out the label instructions for the products you are presently using. If the application you are using it for is not specifically listed on the label, then your company could be in violation of federal law. VONOS can be safely and effectively used for; and is registered for seven different situations: 1) Hospital grade disinfectant; 2) Carpet and soft surface sanitizer; 3) Mold and Mildew killing; 4) Odor eliminator; 5) Allergen eliminator; 6) Antimicrobial in HVAC and air ducts; and 7) an NSF registered food contact sanitizer.
Very few of the disinfectants sold in our industry are registered for soft surface, textile, and carpet sanitization – the main application most restorers are using them for. VONOS is
VONOS denatures and neutralizes the most common allergens most of our customers encounter – dust mite fecal pellets and animal hair dander. As far as I know, no other disinfectant sold in our industry does that.
VONOS is EPA registered for application and fogging into ductwork. Most of the products being sold to you right now are not.
VONOS is approved and registered with the National Sanitation Foundation and can be used and applied to food contact surfaces. Virtually none of the other products sold in our industry have this designation and can be used on food contact surfaces.
VONOS is a great pet urine odor eliminator and stain remover.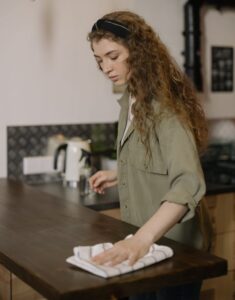 How do the various disinfectants interactant with carpet, floor coverings, and other surfaces?
Plus, are you aware of the latest information regarding the repeated application of disinfectants to flooring surfaces and the studies that Shaw Industries has conducted? Did you get a chance to watch the Experience Events Webinar where Larry Cooper interviewed Darrell Hagan and Jim Mannes discussing the results of testing that Shaw Industries, the world's largest floor covering manufacturer, has done on the interaction of repeated sprays of quaternary and botanical disinfectant sprays on floor coverings? With so much disinfectant being applied due to the current pandemic, it is important for your customers to understand this information.  Here are some of their findings from that presentation:
Repeated applications of Quaternary Disinfectants are causing PERMANENT yellow discoloration on carpeting
Repeated applications of Quaternary Disinfectants are causing PERMANENT yellow discoloration on hard surfaces
Repeated applications of Quaternary Disinfectants are causing PERMANENT damage to metal surfaces
Hydrogen Peroxide based and chlorine bleach-based disinfectants discolor many surfaces and have been shown to degrade many flooring materials as well as metal surfaces
Thyme oil-based disinfectants leave sticky and unwanted residues across all surfaces. They need to be wiped, rinsed, or extracted after every application
Most of the disinfectants that Shaw tested do not contain directions for application to many of these surfaces and do not include directions for electrostatically spraying or fogging. That means if they are applied that way, it is a violation of EPA regulations.
"Bottom line quats and botanicals do not play nice with most surfaces and finishes."
"We really like what chlorine dioxide-based disinfectants are giving us in terms of compatibility""
"Chlorine dioxide products quickly neutralize, leave very little residue, hit the sweet spot in pH of 6-8, and play nicely with flooring products and most finishes."
Of course, a lot of this is related to the "repeated application" without wiping, rinsing, or extraction. The bottom line is that VONOS is more compatible with most surfaces.
What about other Chlorine Dioxide Based Disinfectants Sold In our Industry? How does VONOS compare to them?
What about the powder versions of chlorine dioxide disinfectant available that come in a pouch? Well, if you look closely at their instructions or watch their videos on how to mix the product, they take an hour after they are mixed to be at full strength. But once they are mixed, they also have a limited shelf life, so you cannot pre-mix too much up ahead of time. According to their own directions ("Pour (unused) liquid into a dark closed or sealed container in a cool, dark location. Use stored liquid within 15 days of activation; record activation date onto the container.") once mixed the product has a "shelf life" of 15 hours.  When you are applying disinfectants for the purpose of eliminating or killing dangerous germs, now knowing whether the pre-mixed product is still at full strength may not be a risk you want to take. Plus, once mixed, this product must be stored in a dark sealed container in a cool, dark location. Does not exactly fit the description of the back of your cleaning or restoration van? VONOS is ready to use on-site, can be stored in your van or business location and has a 3-year shelf life.
What about safety and ease of use? There is always a risk when asking technicians to properly mix "super-concentrated" solutions safely. Label directions on an EPA registered disinfectant must be followed precisely. No over-mixing or undermixing. Plus, that super-concentrated powder product states right on their label in their hazard statements – "may form combustible dust concentrations in the air." Not only that, but it also states
Harmful if swallowed.
Toxic in contact with skin or if inhaled.
Causes severe skin burns and eye damage.
May cause damage to organs through prolonged or repeated exposure. Very toxic to aquatic life
Harmful to aquatic life with long lasting effects
VONOS has the lowest toxicity level of 4 with no known health hazards. It can be used straight or mixed 1:5 or 1:9 depending upon the application.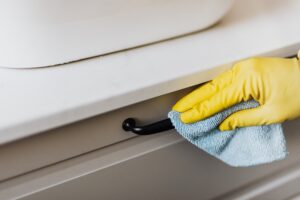 What makes your best choice for applying a disinfectant?
Well first and foremost, whatever product you choose, always follow the label directions precisely that are on the label of the product you are using. It is a violation of the law when you fail to do so. Secondly, do not just evaluate the necessary safety precautions of the solution you are applying when it comes to wearing personal protective equipment. Sometimes, the environment you are working in will demand certain types of PPE. Thirdly, know and understand what the regulations are in your state for when you are applying a disinfectant. You may or may not need to be licensed or registered. Finally, be careful how you state what you are doing. You are applying a disinfectant or sanitizer, not making a promise that all potentially harmful micro-organisms or germs have been fully eliminated from any environment. Get educated for the type of work you are doing – whether you are simply spraying disinfectant in your customer's home for a healthier environment or to eliminate odors or doing hard core restoration and remediation jobs. IICRC Certification would certainly be a good place to start.
VONOS has many distinct advantages over other types of disinfectants available to you. It is easier to use and apply, safer for the surfaces you are applying it to, and has a wider range of EPA registered uses and applications than other products. It truly is a disinfectant created differently
VONOS is available in quarts, quart cases (12 x 1) gallons, 4 x 1-gallon cases, 5 gallon and 55 gallon drums from your local HydraMaster distributor.
Tags: chlorine, covid, dioxide, disinfect, epa, hard surface, hospital, no ppe, ppe, sanitize, soft surface, virus