A Comprehensive Cleaning and Sanitizing System for Escalator Handrails
HydraMaster is partnering with Thomsen's Escalator Handrail Cleaning System to be used in conjunction with its TreadMaster Escalator Cleaning Machine. Let's look at exactly how the Handrail Cleaning and Sanitizing System Works
What about the handrails?
In the past, truthfully the handrails were generally overlooked and ignored. With the COVID-19 pandemic focusing more attention on potential touch-point transmission of infectious diseases, there has been a greatly increased awareness of the need to clean and sanitize the handrails. Unfortunately, a false sense of security has been caused by the idea that you can routinely spray (with or without an electromagnetic sprayer) a disinfectant and eliminate any potential threat. We know that to properly clean and sanitize any surface requires first that you clean the surface, and secondly then you apply the appropriate disinfectant or sanitizer.
This concept has been reinforced by many studies of how unwanted materials end up on so many surfaces indoors. But Dr. Charles Gerba, PH.D, from the University of Arizona had this to specifically say about escalator handrails: "In our testing, we have found food, E. coli, mucus, feces, and blood routinely on escalator handrails. And where there is mucus, you may also find cold, flu, and COVID-19 viruses." In seminars conducted by the Cleaning Industry Research Institute (CIRI – http://www.ciriscience.org) PH.D microbiologists repeatedly warned that most viruses are "encapsulated" in saliva and mucus, and may live for days left untreated.
Because of this, TreadMaster has partnered with the world's most efficient and complete solution to effectively cleaning and sanitizing escalator handrails – the THOMSEN's HANDRAIL CLEANING SYSTEM. This comprehensive enterprise escalator handrail cleaning and sanitizing program encompasses:
Dual System for Safe and Easy Cleaning
Complete Solution Approach

Heavy Duty Cleaner
Cleaner Conditioner
Sanitizer Solution

ATP Testing For Documenting Results Monitoring Software and Reports
Escalator Handrails are Generally Poorly Cleaned, If They are Even Cleaned at All! 
Escalator Handrails are considered essential safety equipment. On average 30 people die and 17,000 are injured due to escalator accidents in the US each year with nearly 10,000 trips to the emergency room, many of them children. If people were not holding onto handrails before Covid-19. What do you think will be happening now?
So why have they been so overlooked? Escalator handrails are universally considered filthy, but cleaning handrails has historically taken a lot of time and is incredibly labor intensive. Therefore, cleaning handrails has been expensive and could easily be called into question how effective it even is. Add to that fact that cleaning often took the escalator out of service for customers. Often times, owners and operators landed on, "no one cares, why bother?"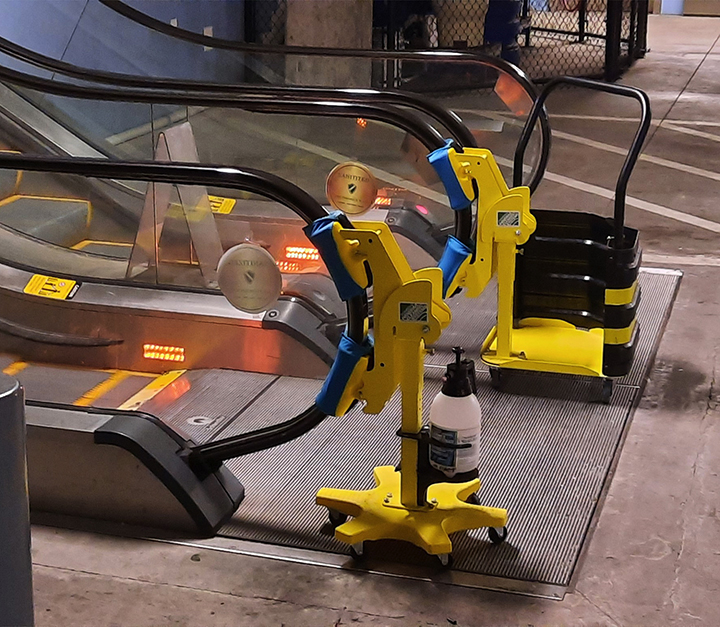 So How Does the Thomsen's Escalator Handrail Cleaning and Sanitizing System Work?
It is a non-motorized, safe, and simple system that when used properly removes dirt, grime, viruses and bacteria, and other unwanted substances from moving handrails. The specially designed microfiber cleaning pads attached to molded pad holders clean the moving handrails from "bead to bead."The Maestro System attaches to non-obstructed moving handrails and cleans without interrupting the escalator operations. The handrail Cart System's patented swivel arm easily placed for access to any handrail. The system is nested for compact, convenient transport and storage.
The Thomsen's System also comes with a handheld stationary handrail cleaning tool for surfaces that are around many escalators. The Flexible handle connection allows for easy maneuvering to ensure the best cleaning results. Small, compact, and fits easily on any janitorial cart. It Utilizes the same supplies and technology as the Maestro system for easy, efficient cleaning of stationary handrails. This system will clean handrails, guardrails, guide rails, banisters. i.e., ADA handrails, stairways, walkways, and more. It is safe and effective on Metal, Rubber, Fiberglas, Wood, Linoleum, and Plastic. The tool is used with All Thomsen's Cleaning, Conditioning, and Sanitizer solutions or with rail-specific manufacturer recommended solution i.e., brass cleaner for brass rails, hospital rail required cleaners and more.
What Kind of Results Does it Get?
By properly cleaning and applying a sanitizing solution to the handrail, it prevents the spread and transfer of viruses, germs, bacteria and other unwanted substances.. It extends the life of moving handrails by 3 to 5 years, reducing untimely handrail replacements costs.. It actually lowers labor costs and increases productivity by allowing staff to perform other essential duties, maximizing labor efficiency.  A prescribed cleaning frequency and time chart detailing labor time required to complete each cleaning or sanitizer application. No downtime equals happy customers! Cleans while moving rails are in use.
The system consists of microfiber cleaning pads, along with a three step chemical application system. First a deep cleaner is applied to break down, dissolve, and emulsify body oils soil, sticky substances, snot and saliva, and virtually anything else previous users of the escalator had on their hands. Secondly, a conditioner is applied to help maintain the form and substance of the handrail rubber material, along with restoring a clean-looking sheen and shine. Finally, an EPA registered disinfectant/antimicrobial is applied to treat and kill a wide range of germs, viruses, bacteria, and other unwanted substances. All of this can be confirmed with the use of ATP Testing For documenting results.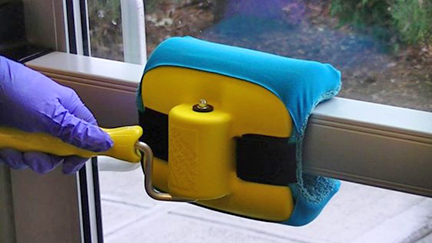 What impact can investing in this system make?
The Thomsen system is easy to Implement and safe to use. It reduces labor costs and allows cleaning staff to be focused on other areas while they system is working. It extends the life of the handrail and reduces overall escalator downtime. It provides a cleaner, safer, and healthier rider experience, while reducing rider accidents because they are more confident to hold on to the handrails. The process effectiveness can be documented and reported by ATP monitoring.
For more information on the HydraMaster TreadMaster Escalator Cleaning System, visit https://hydramaster.com/product/treadmaster-escalator-cleaner/
For more information on the Thomsen's Escalator Handrail Cleaning and Sanitizing System, visit https://hydramaster.com/product/thomsen-escalator-handrail-cleaning-system/